We Provide Armed Security Guards in Pembroke, MA
#1 Licensed, Insured, Bonded Security Guard Patrol Service Company in Pembroke, MA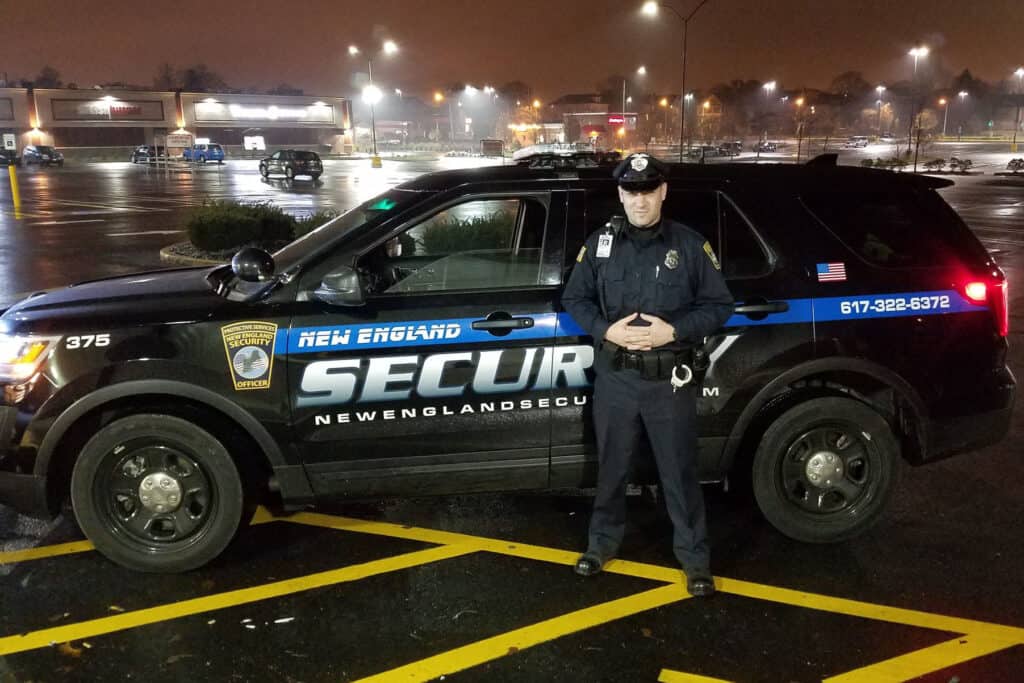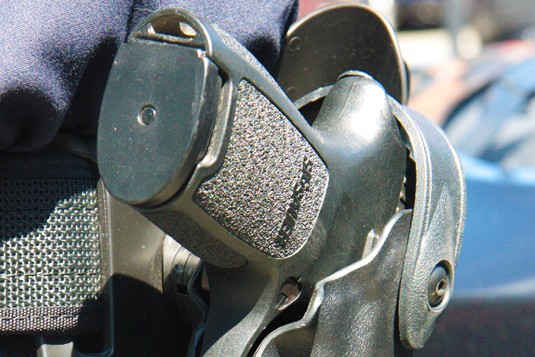 Armed Security Guards in Pembroke, MA – Our Armed Security Guard Division consists of well-trained, qualified, professional, and proactive security specialists. Most officers assigned to our armed division are either current active law enforcement or retired police officers and retired federal agents. Some of our armed officers may work for municipal police departments, college campus police agencies, the sheriff's department, or former retired federal agents from the ATF, DEA, or Secret Service. You simply will not find a more qualified team.
Unlike most security firms that hire unqualified applicants off the street with merely a pistol permit and with little to no training. You will find that New England Security's officers already come to us with the background, experience, and qualifications to carry a firearm. Further, all armed officers MUST qualify every year with our in house firearms instructor. We need to be prepared for a wide array of security and safety concerns. No matter what kind of problem arises – at any time of day – you can count on The New England Security Team to deliver professional armed security officers.
New England Security provides highly trained and professional security guards. Our armed guards go through strict training which allows them to carry a weapon and offer a higher level of protection for you, your employees, and your assets. We know how important it is to keep your business, property, and people safe, and that's why companies trust us and hire us. Some businesses are a bigger target to crimes and unwanted activity; many times these are the businesses that take advantage of our armed security services. We can provide you with the reassurance that your clients, guests, visitors, employees, people, property, and assets are protected. We understand it is a big decision to contract with and deploy armed guards to your property that's why we offer to provide you with verifiable training, qualifications, and references from our currently existing and former clients.
New England Security provides a variety of customized security solutions for Pembroke businesses. The armed guards can be either uniformed commercial security guards who maintain a post or roam an area or plainclothes guards in business attire. We also provide special police officers, certified under rule 400 City of Boston Special Police Officers.
We currently employ over one hundred and twenty security officers, twenty-five off duty and retired law enforcement officers, and retired federal agents. 
We operate in over ten states, we protect over thirty-million dollars in assets and property, we have been in business well over fifteen years, and our management team has a combined security and law enforcement background of over sixty years. Recognized by the Boston Business Journal as top ten security firms in Massachusetts.
We are the only security firm in Massachusetts and New England with a dedicated training program and state-of-the-art training facility. Many companies can and will say they provide security officer training, but only we can provide proof and verification of all training programs and modules. Many companies state they provide "Security Service", but what they provide is nothing more than a warm body in a uniform that typically you will find sleeping on a post or not there at all. These companies simply do not have the means or desire to monitor their officers and provide oversight. We have invested thousands of dollars into our training programs and security management solutions.
We are prepared and able to facilitate security services coverage anywhere at any time 24/7 in all of New England. Our company is a well-established and well-respected provider of professional and proactive protection. We are known as the leader and provider of premium protection & security solutions. You have likely seen our mobile patrol units, our signs, our officers, and our company. From Boston to Providence, Nashua to Portland. The New England Security Team is Everywhere!     
Our twenty-four-hour dispatch command center is staffed and manned by well-trained and certified dispatchers around the clock. Dispatchers monitor clients' sites and locations. They monitor on-site surveillance cameras, DVRs, and CCTV systems. Additionally, our dispatchers maintain frequent contact with security officers remotely, providing oversight, and ensuring compliance via our state-of-the-art technology that provides real-time asset and fleet management for our clients. 
Current and existing clients value and appreciate the relationship that we maintain with them especially with keeping our lines of communication open and making ourselves and our executive team available to our clients all the time, at any time.
At New England Security, we offer a full range of security services in Pembroke, MA to suit all of your needs.  No matter what type of security patrol officer or service you require, our team does it all, including, but not limited to the following:
Auto Dealership Security
Bank Security Guards
Bowling Alley Security
Business Security
Call Center Security
Concierge/Customer Services
Concert Security
Commercial Building Security
Construction Site Security
Convention Center Security
Displays and Exhibit Security
Distribution Center Security
Dispensary Security
Entertainment Security
Event Security Services
Financial Institution Security
Foreclosure / Auction Security
Golf Course Security
Grand Opening Security
Gravel Pit Security
Grocery Store Security
High Rise Security
Homeowners Association (HOA's) Security
Hospital & Medical Center Security Guards
Hotel Security Guards
Resort Security
Industrial Plant Security
Insurance Company Security
Law Firm Security
Mall Security Guards
Neighborhood Security
Strip Mall Security
Supermarket Security
Manufacturing Security
Medical Facility & Clinic Security
Movie Set Security
Office Building Security
Office Park Security
Parking Lot & Garage Security
Patrol Security
Plaza Security
Private Security for Homes
Private Venue Security
Public Housing Security
Public Safety Patrols
Publication House Security
Railroad Security
Residential and Commercial Guardhouses
Restaurant Security
Retail Security
School & Campus Security Guards
Shack / Guard Shack Security
Shopping Center Security
Special Event Security
Subdivision Security
Trucking Yard Security
TV and Radio Station Security
Utility Security
Water Authority / Reservoir Security
Warehouse Security