Today, there are many ways that a person can infiltrate the life of another and cause him or her harm. Romantic partners may lie about their background, neighbors may have a sordid history of sexual abuse of a minor, employees may steal and domestic workers may have a track record of fraudulent activity. To combat these realities, people may turn to a private investigator to inspect the background of someone in their lives.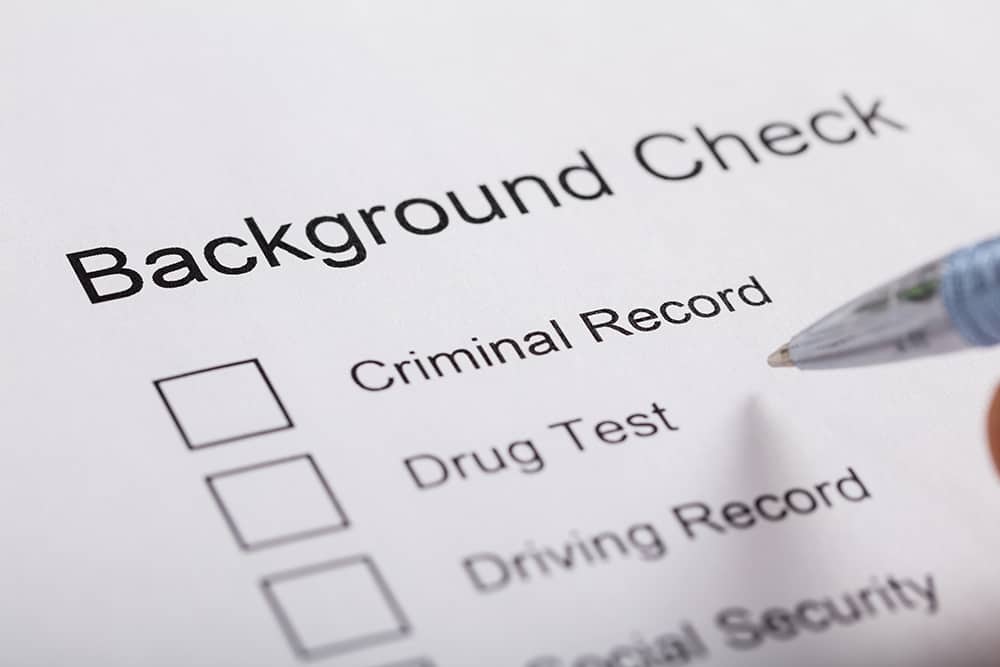 New England Security background check looks into a person's criminal, personal and professional history to explore what validates or disproves their character and identity. A background check may delve into criminal records, employment history, civil records, personal references and an education check. However, this check may be broader or narrower, depending on the reason for the check and the client's request.
Reasons to Conduct a Background Check
A background check may be conducted for a variety of reasons. For example, a person may have connected with a love match and may want to confirm that the person is who he or she is claiming to be and also that the person is safe to be around. In other cases, the person may be being considered as a new employee. If the person is applying for a job with a business, the business may want to confirm that the employee has the credentials that he or she claims and may want to check with past employers about previous work history. If the person may be hired in the home such as a nanny or housekeeper, the person may want to confirm that he or she has not been convicted of any crimes involving harm to children or theft.
In other situations, the reason for the background check is that the person is applying to be a tenant somewhere and the landlord wants to know that he or she will pay rent and fulfill other obligations. A potential new business partner may approach someone about a new opportunity, and the business owner may want to confirm that the business partner is not a scam artist in disguise.
What My Be Revealed
Unfortunately, the reality is that many people routinely lie. A criminal background check performed by a private investigator may reveal very important information, including that a person did not receive a degree from a university he or she claimed, that the person has been hired by a competitor or did not reveal places where he or she worked, that he or she has or does not have memberships with certain groups, that he or she has filed a lawsuit or grievance against someone else or that he or she has a criminal conviction that was not disclosed. A background check can often reveal critical information that a person may want to know before making an important decision about involving a new person in his or her life. 
Verifying Information
While there are supposed background check websites that may provide information about a person, these may provide incomplete or inaccurate information. Records may be associated with someone else. Information may be out of date. A private investigator can verify the validity of such information and use databases that are not generally available to the public. A private investigator can ensure that information is accurate and reliable. Additionally, a private investigator can use additional resources to help validate or disprove things that the target of the investigation has claimed. He or she may conduct interviews with people who knew the subject or had dealings with him or her. In some cases, a person may want a private investigator to conduct surveillance to see how a person acts when he or she does not believe that he or she is being monitored.
Professional Consultation
Before a private investigator will conduct a background check, he or she will usually meet with the client for a consultation. This is where he or she will discuss background checks, the differences between criminal background checks and complete background checks, the scope of the information that is evaluated and the reasons for the check. He or she may request all of the information that the client has on the subject, including his or her full legal name, date of birth, location of birth, Social Security number, past addresses, previous employers, schools attended and any other information that may aid in the investigation. He or she may also explain pricing and how information is validated so that the client has a clear understanding of the scope of work.
Advanced Person Search
Advanced Person Search Plus
Basic Email Search
Basic Person Search
Contact Plus Search
Death Master Search
Death Record Search
InstantID Search
InstantID with FraudDefender Search
Marriage & Divorce Search
People at Work Search
Premium People Search
Premium Email Search
Relationship Graph
Rollup Person Search
Social Media Search
Utilities Search
Voter Registration Search
Watch List Search
Advanced Phones Search
Reverse Phones Search
Phones Plus Search
Concealed Weapon Permit Search
Hunting & Fishing License Search
Premium Drivers License Search
Premium Professional License Search
Professional License Search
Basic Business Search
Business InstantID Search
Business InstantID with FraudDefender Search
Basic Corporate Filing Search
Basic UCC Filing Search
Business Phones Search
Business Search
Corporate Filing Search
Internet Domain Search
UCC Filing Search
Bankruptcy Search
Basic Criminal Search
Criminal Records Search
Civil Court Search
Criminal Search
Current Arrest & Incarceration
Eviction Search
Florida Accident Search
Full Arrest & Incarceration
Historical Arrest & Incarceration
Lien & Judgment Search
Personal Judgment Search
Personal Lien Search
Sexual Offender Search
Motor Vehicle Search
Property Search
Real-Time Motor Vehicle Search
Vehicle Sightings
Watercraft Search
Get all your information in an easy-to-read report. The Locate Report pulls together the best right-party-contact information on an individual, along with relatives and business information. With our data collection tools, three comprehensive reports including person, address, and business, make up a 360-degree background profile.
Asset Report
Bankruptcy Report
Basic Locate Report
Comprehensive Address Report
Comprehensive Business Report
Comprehensive Person Report
Comprehensive Report
Comprehensive Report with Real-Time Motor Vehicles
Contact Card Report
Criminal Report
Finder Report
Lien & Judgment Report
Motor Vehicle Report
Neighbor Report
Premium Address Report
Premium Business Report
Relative Report
Summary Report