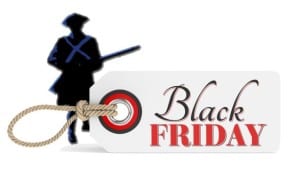 Black Friday is the day after Thanksgiving, and has become the unofficial start to the Christmas shopping season.
Retailers across the country depend on this day for much of their annual revenue. Shopping centers expect and prepare for large crowds, parking issues and upset customers.
Security is a must during Black Friday, as stores face alarming crowds, disgruntled shoppers and overfull parking lots. The commotions can also facilitate shoplifting. In fact,
organized criminal rings often use the Black Friday crowds to move large quantities of goods out of the store.
Under the theory of "premises liability," store owners and retail corporations have a responsibility to keep their premises safe and free from known hazards that might cause injury to shoppers.
The Black Friday crowds are infamous for their recklessness, and injuries during the holiday are common. Not investing in private security and taking proper measures to meet OSHA crowd control requirements can cost retailers hundreds of thousands of dollars. We here at New England Security have been providing security solutions throughout New England for the past 10 years.
List of security guard duties:
Store Crowd Control
Create a crowd control barriers
Monitor store areas
Prevent looting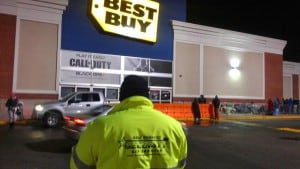 CALL US TODAY !!
TOLL FREE 1-866-709-9116