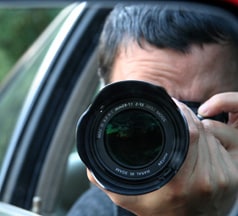 How to Choose a Private Investigator in
Massachusetts
With so many choices out there, hiring the right private investigator can seem like a daunting task. This article will help you choose someone reputable and reliable.
Make a list of possible private investigators.
While looking up names on Google or in the Yellow pages is a good place to start, doing so doesn't guarantee someone you can trust. To best ensure you get a reputable person, you should get a referral. If you don't have any friends who have used a private investigator, consider asking one of the following for a recommendation:

A clerk at the police department
A watch commander at the sheriff's department
Criminal defense lawyers
The duty agency of a local FBI

Ensure that the investigator is licensed.
Once you've made a list of possible private investigators, check to see which ones are licensed. The restrictions on who calls themselves a "Private Investigator" vary from state to state. Learn what your state requires. To be sure, you can contact the licensing division of your state's Licensing Authority. Here in Massachusetts Private Investigators must be licensed thru the State Police. Be sure to double-check that your possible private investigators are licensed.
Look at the private investigator's past.
Do they have a reputable amount of experience? What kind of technical knowledge do they have? Do they understand how to effectively interact with people? Weed out all the possibilities that are inexperienced in the particular specialty that you may need.

You should also figure out how well they satisfy their clients. Search online or call your state association of private investigators to see if there have been any complaints filed.

Find out if the investigator is prepared to testify in court.
Make sure they understand the court system and how to play it to work in your favor. Even if you don't think court will be necessary, it's good for your PI to have these skills just in case.
If the PI will only meet in a public location, or worse only talk to you by phone, you have no way of finding them if they run off with your money. When you walk into their office, take note of how it's arranged. While it's not always the case, a messy or disorganized office may give you some insight into the quality of the private investigators work.
Know how to explain your needs in a concise way.
Bring all necessary information and documentation. You should also write down any questions you might have so that you don't forget them during the meeting.
Ask the PI about fees.
Immediately after explaining what you want, ask for a quote on how much it will cost. The PI should be able to provide you with an estimate right away. During the process, they should never go over this amount without first consulting with you. You should also remember that your first consultation should be free!
Evaluate the private investigator's personal skills.
Beyond being able to effectively communicate with other people, the PI should have a good relationship with you. Take cues from the first visit, and if you don't feel a good connection, find someone else. You may be sharing private information with this person, and you want to feel comfortable doing.
Boston New England Security Agency
Security Guard Companies Boston
Security Guard Companies Ma
Security Guard Services
Armed Security Guards Boston
Private Investigators Boston Youth Tour Group