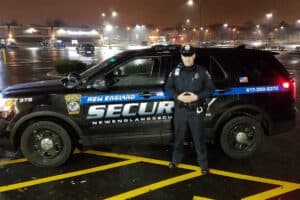 When it comes to the safety and security of your business or property, you deserve nothing but the best. In the bustling city of Boston, Massachusetts, there is one company that stands out among the rest – New England Security. With their unparalleled expertise, commitment to excellence, and unwavering dedication to their clients, New England Security has rightfully earned the title of the #1 Best Security Guard Patrol Service Company in Boston.
Extensive Experience and Expertise: New England Security boasts a team of highly trained security professionals with extensive experience in the field. Their security guards are carefully selected and undergo rigorous training to ensure they possess the necessary skills and knowledge to handle any security situation that may arise. With their expertise, they provide exceptional protection and maintain a secure environment for their clients.
Customized Security Solutions: Understanding that each client's security needs are unique, New England Security takes a personalized approach to security services. They work closely with their clients to assess their specific requirements and develop tailored security solutions to address their concerns effectively. Whether it's a residential complex, corporate office, retail establishment, or event venue, New England Security provides customized security plans to ensure maximum protection.
State-of-the-Art Technology: In today's technologically advanced world, security measures require more than just physical presence. New England Security stays at the forefront of security technology, integrating state-of-the-art systems into their services. From advanced surveillance cameras to access control systems, they leverage cutting-edge technology to enhance the effectiveness of their security operations, providing an extra layer of protection for their clients.
Proactive and Preventive Approach: New England Security firmly believes in a proactive and preventive approach to security. Rather than simply reacting to incidents, their security guards are trained to anticipate potential risks and take appropriate measures to prevent them. By maintaining a strong security presence and actively monitoring the surroundings, they create a deterrent effect that helps mitigate security threats before they escalate.
Exceptional Customer Service: At New England Security, exceptional customer service is at the core of their operations. They understand the importance of open communication and responsiveness to their clients' needs. Their professional and courteous staff ensures that clients' concerns are addressed promptly and effectively. With their commitment to going above and beyond, they build lasting relationships based on trust and reliability.
Conclusion: When it comes to securing your business or property in Boston, Massachusetts, New England Security emerges as the clear choice. With their extensive experience, customized security solutions, integration of advanced technology, proactive approach, and unwavering commitment to exceptional customer service, they have rightfully earned the reputation as the #1 Best Security Guard Patrol Service Company in Boston. Choose New England Security for unparalleled protection and peace of mind knowing that your security needs are in the hands of the best in the industry.