Random Patrol Service
New England Security Protective Services "random patrol service" is the talk of the town. We pride ourselves on this patrol service which is comprised of fully marked newer model security patrol units complete with light bars, spot lights, push bumpers and more.
Our armed or unarmed certified and licensed officers who work random patrol
are specifically trained to look for unwanted persons on your property
and are fully prepared to enforce your property rules, property
violations. Our Special Officers are licensed to make arrests on their respective jurisdictions.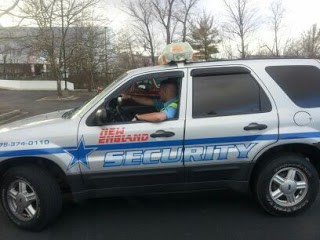 Dedicated Patrol Service
In addition, we offer a "dedicated patrol service"
to our clients. This service costs a little more but the security
officers remain on your property for the entire contracted shift time
with the fully marked patrol unit making this service well worth the
price.
Temporary Patrol Officers
Is your staff security patrol officer on vacation or on an extended
leave? Do you have a special personal circumstance where you don't feel
safe in your home? We can give you that extra peace of mind. We can
help fill the gap. Temporary patrol services are easy to arrange and very affordable. We can meet your security needs no matter what the situation.
24/7 Patrol Service
We can meet any schedule. Just need an evening or weekend patrol service? No problem our officers can be scheduled to meet your request 24 hours a day 7 days a week.
Our Patrol Service is Affordable
This patrol service is one of the most popular offered by New England Security Services due to the quality of service and very affordable pricing.
Our Patrol Service Area
New England Security Services is licensed to provide patrol service in the Commonwealth of Massachusetts. We are able to facilitate security services coverage in all of New England and Nationwide. Boston Security Service, Quincy Security Service, Milton Security Service, Springfield Security Service, Somerville Security Service, Medford Security Service, Malden Security Service, Newton Security Service, Woburn Security Services, Wakefield Security Services.
Security Guard Services Companies
Quincy Security Service,Boston New England Security Agency
Security Guard Companies Boston
Security Guard Companies Ma
Security Guard Services
Armed Security Guards Boston
Private Investigators Boston