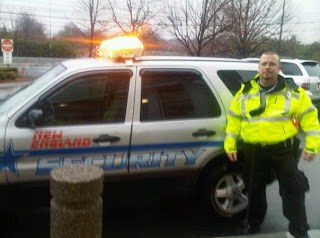 Today's ever-growing crime rate
and budget restraints leave law enforcement unable to provide adequate protective services. Private security is the only alternative for providing the uniformed presence that is known to deter crime. A professional, uniformed New England Security Officer's presence will eliminate costs involved with theft and vandalism and reduce insurance claims. In this day of rapidly changing events, information is everything. New England Security's client advisory system provides our clients with up-to-date information from local, state and federal agencies regarding current and future events and advisories.
We offer uniformed guard services for every occasion.
Armed or unarmed, we provide security agents for:
• Retail Establishments
• Restaurants, Bars
• Homeowner's Association's
• Commercial Centers
• Construction sites
• Community Events / Special Events
• Hotels and Hospitals
• Celebrity and Dignitary Protection
About Us
New England Security's management team works with you through every step of the design and implementation of your security program. We are driven by a dedication to quality, a genuine desire to ensure your safety, and a commitment to protecting the value of your assets. Second best is never enough when it comes to security. New England Security's client's peace of mind comes from knowing that their assets, property, and lives are being protected with a sophisticated and dedicated security service.
New England Security's commitment to service excellence is what makes us a leader in the security industry. Our superior service begins with our employees. Well-chosen security officers are New England Security's most valuable asset. We are committed to hiring high caliber officers who are professional, intelligent and dedicated. Candidates are carefully selected to meet the high expectations of New England Security and its clients. On-going training and quality assurance measures ensure that New England Security's officers are the industries finest.
Our Quality Assurance Program is a continual process that includes comprehensive security programs customized for each client, regular quality evaluations and client feedback. Quality assurance measures such as security inspections, on-going training and spot testing ensure that security officers are meeting the high-level service expectations set by New England Security. Our comprehensive Quality Assurance Program allows New England Security's clients to enjoy peace of mind. In-addition you can count on our management team to be available twenty-four hours a day to answer your call or questions.
Boston and New England Security 978-374-0110
Security, Safety and Service Specialists
Providing you the Best in Protective Services in Boston and New England Areas